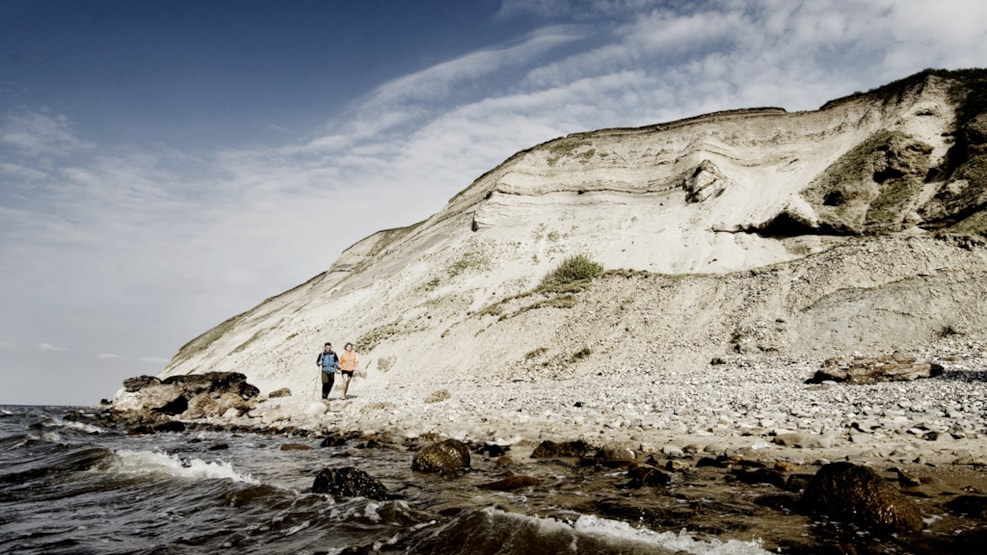 The coastal route
The coastal route (danish: Kystruten) around Mors is 150 km of nature experiences in hiking boots with challenges, enjoyment and unforgettable adventures.
When you venture on to the coastal route around Mors at your own pace, you'll have adventures you wouldn't have any other way. The route takes you through varied scenery, where you'll feel the whirl of history and experience the islands unique nature.
10 stages
The route is divided into 10 stages of almost equal size. The first emanating from Nykøbing, the last ends there. The hiking trips goes along paved roads, field paths, historical sunken roads, by meadows and along beaches - nicely varied, exhausting your feet in the proper way. The coastal route also offers many small tours - or loops - typically providing 1 to 3 hours of hiking.
Exciting detours
Each of the stages offers exciting detours to special natural areas, vantage points, historical monuments, burial mounds, churches, manors and many more unique attractions. The high point of the route could very well be walking to the 89 m tall Salgjerhøj, rewarding your efforts with a supreme view of the island and the fjord. You could also dip your feet in the holy water by the Maria Magdalene spring close to Dragstrup church, dating back to the 1200s. By Legind lake you may be lucky to encounter rare plants like the Panassus, the Lousewort or the protected Western marsh orchid.
A description of the route is found in the book "Kystruten", which you can acquire at Morsø Turistbureau for €7.5