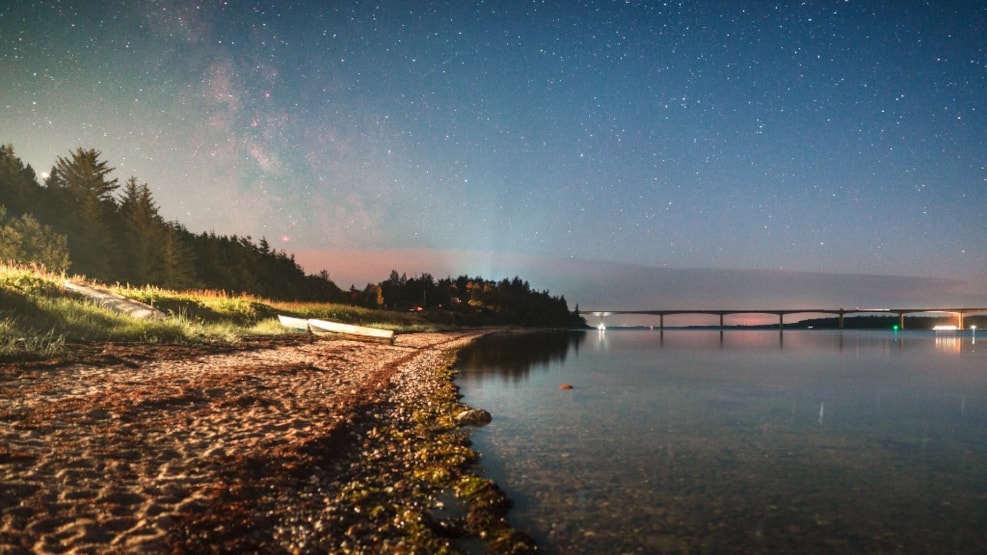 Dark Sky spot - Sallingsund
Right between the Legind forest and Limfjord you will find a big picnic area, which is great visiting for stargazing. The place fits perfectly for experiencing of shooting stars and the Milky Way that appears as a bright pillar in the Southern part of the sky from August till November. And you should definitely be here, when the year's greatest Perseids meteor shower lights the night sky up with more than 100 shooting stars per hour!
In the pectin area you will find tables and benches that can freely be used if you would like to enjoy a hot drink with the heavenly view. The area is handicap friendly.


Well-adapted for experiencing: Milky Way, Meteor showers, Moonrise

Facilities: Tables, benches

Parking: Picnic/parking area under Sallingsund Bridge


Dark Sky in the Limfjord's country will take you on a time travel through billions of stars, offer an ease for your souls and non the less create lots of unforgettable memories of the fascinating night sky phenomena.
You can read more about Dark Sky in Destination Limfjorden here: Dark Sky in Destination Limfjorden
Being outside at night
It is our common responsibility to respect natural environment, especially as many animal species are active during night time. It is important to switch the light off, when there is no need for using it – doing this will help you to avoid affecting your night vision and others in the area. Remember not to leave anything but your footprints out in the nature.