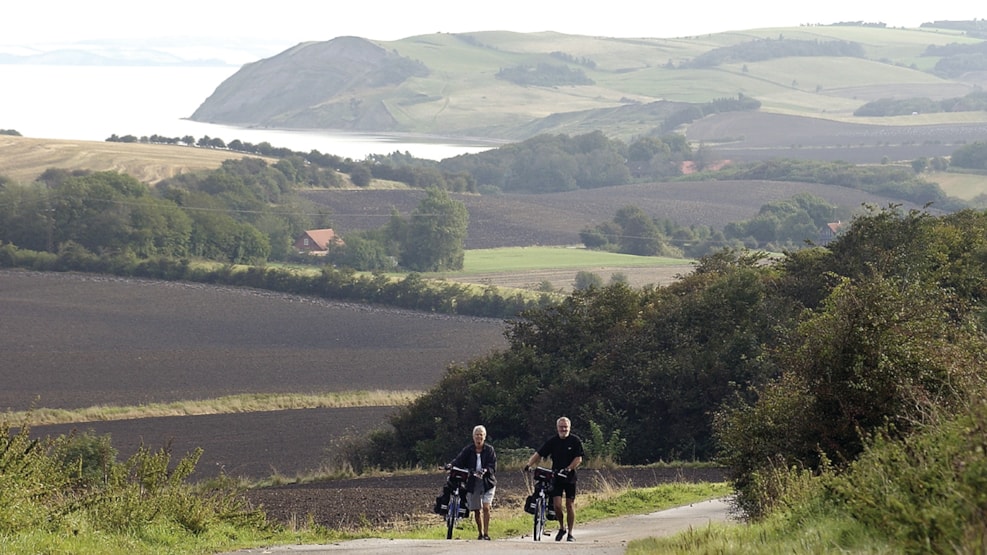 Discovering the countryside of the Limfjord
The countryside of the Limfjord is a paradise for cyclists. Wonderful opportunities await in a grand and richly varied nature, and you'll meet nice people along the way. Some can be difficult to understand, and so Denmark becomes a large country where local dialects and cultures are preserved.
The Limfjord is tied together by alot of bridges and ferries, so there's good opportunities to experience the country side in multiple stages. You'll depart and arrive on Mors, the biggest island in Limfjorden and will be travelling through the Salling area, along Venø bay and Nissum fjord, Thyholm and Southern Thy. The scenery is characterized by the area's history. You will be continuously reminded of the Viking's past presence in the area, by observing a wide range of burial mounds scattered around the area.
During the trip, there'll be time for detours to both Venø and Jegindø, adding up to three island visits in the Limfjord. Venø has a ferry connection from Bremdal. The isle is a paradise for bird lovers, as there are many species that can't be found elsewhere in Denmark. Jegindø is connect to Thyholm by a dam at Tambohuse. There's a small museum by the harbor, "Æ Fywerhus", which tells a story of the fishing industry that once was on the island.
INFORMATION:
6 overnight stays in nice Bed & Breakfast's and at Danhostel. 6 x breakfast, maps, tour description and brochures.
PRICES:
6 overnight stays € 353,- per person in a double room. Children under the age of 12, accompanied by two adults: € 190,- per person.
EXTRA FEES:
Single room: € 170,-
Extra night: from € 55,-
TOUR NO. 508