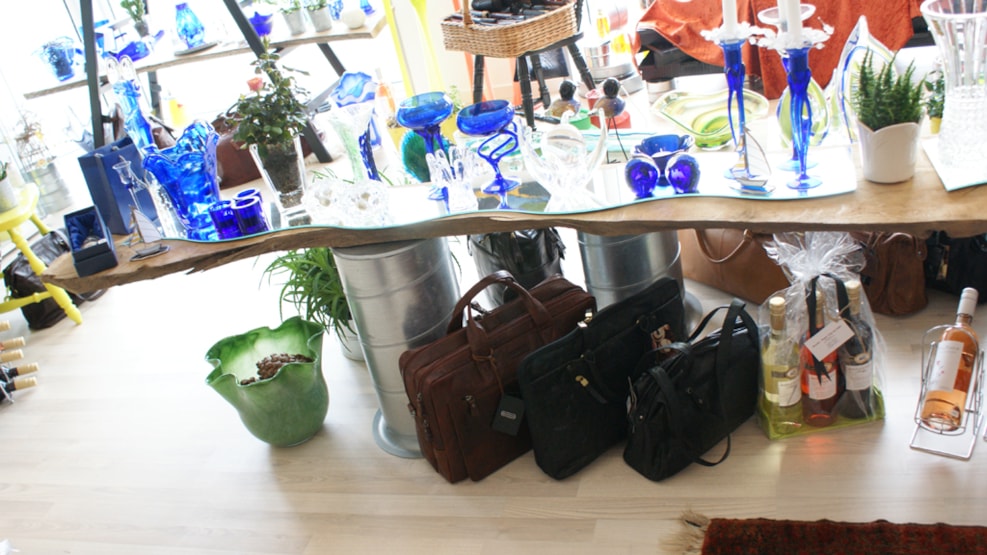 Nice4U - Glass4U
In the middle of Sejerslev on Nordmors, close to the Limfjord, you will find a creative and colorful glass art shop, which Anette runs with great pleasure. Here you can go exploring in the art and gift shop, Nice4U, which exhibits and sells glass art from the entire world. Additionally the glass art, leather goods and gift items for any occasion are also for sales. If you want a specific item of glass art, perhaps for a gift, Anette is also happy to make it, on make-to-order basic.
Make your own glass art
Anette´s glass workshop, Glass4U, is also open which is a the free space where creativity can unfold, regardless of whether you are an experienced artist or trying glass art for the first time. Glass art is a fun and challenging way to express yourself, and at the same time create a shared experience with your loved ones. If you have the courage to art painting, there is an option for that as well (Paints4U). Here you work with acrylic paint on e.g. canvases, wooden boards and wooden furniture. It is truly solely the imagination that sets the limits in Krea4U, and if you need advice and guidance during the creative process, there is expert help available.
4U
Anette's concept is that for each activity or concept a "4U" is added - Nice4U (the shop), Glass4U (the glass workshop), Paint4U (the painting workshop), B&B4U (the holiday apartments). And as a common denominator, Anette calls her company Event4U.
For more information:
Read more about the unique multi company and the products that is offered at Event4U
or  contact Anette directly by:
Phone: +45 21 12 44 41 or
Email: anette@benefit4u.dk